The Blackfyre series returns! This time: the life of Aegor Rivers, aka Bittersteel. Aziz also does a Grandpa Simpson impression.
Credits
Our new introduction, animations, and the Bittersteel sigil were created by Michael Klarfeld (Klaradox). dutchmogul created the cyvasse pieces.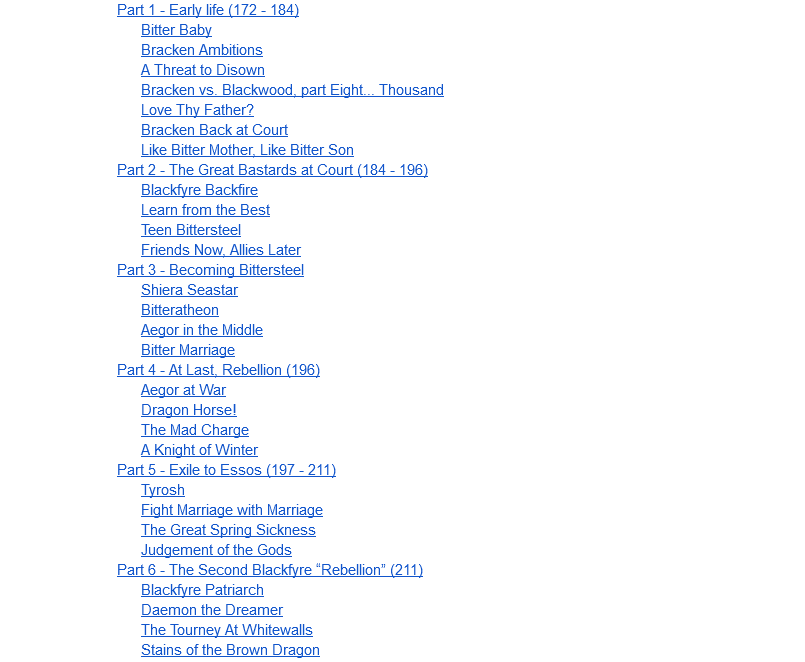 "Younger than Daemon Blackfyre, older than Bloodraven. Bittersteel was also a warrior, and looked the part. He was only half Targaryen, so he got the purple eyes, but his hair was black. As an adult he wore a beard, cropped very short, little more than a shadow on his face and jaws. Somewhat of a Conanesque look to him, but not the Frank Frazetta Conan and definitely not the Arnold Conan, more the Barry Windsor-Smith version, or the one described by REH (Robert E. Howard)– he is tall and well made, but lean and lithe as a panther. And angry. No smiles here. Bittersteel was pissed off all his life, and had a special loathing for Bloodraven and his mother, who had displayed his own mother as the king's favorite." – GRRM
---
Serenei was the most beautiful of Aegon's mistresses, but she was also reputed to be a sorceress. She died giving birth to the last of the king's bastard children, a girl called Shiera Seastar who became the greatest beauty in the Seven Kingdoms, beloved of both her half brothers, Bittersteel and Bloodraven, whose rivalry would ripen to hatred.
"I should have gone with Bittersteel into exile, or died beside my sons and my sweet king. That would have been a death worthy of a chequy lion descended from so many proud lords and mighty warriors. Daeron's mercy made me smaller."