In the past I have posted my asoiaf-related castings in my Cast Aluminum Weirwood Tree thread. But this is not aluminum, nor a Weirwood, and I think it deserves its own space...
I'm gonna try and let the pictures and videos do most of the talking here so this doesn't turn into a lecture on amateur metal casting... It's a slippery slope but I will try.
This weekend I made what is by far the coolest thing I have ever made in my backyard foundry. Better than my Cast aluminum Weirwood, better than my aluminum skull belt buckle, better than any of it! I also levelled up from casting (entry level) aluminum to casting bronze, which requires significantly higher temperatures, and for the particular alloy I used (aluminum bronze C95400), also involves certain specific concerns in mold design which I won't go into here.
First, a little background...
Last summer's big project to upgrade my hobby foundry was to build a new, bigger, hotter furnace that would be capable of melting bronze, brass, and maybe even iron someday. My old charcoal burning furnace is great for melting aluminum, but if I tried to melt those metals in it, I'd probably melt the furnace itself. For the record, aluminum can be melted in a simple wood fire. (
https://www.youtube.com/watch?v=cWR1ErIXat0
,
https://vimeo.com/75917079
)
Bronze, however, needs more heat, and an insulated furnace...
Enter The Black Dread!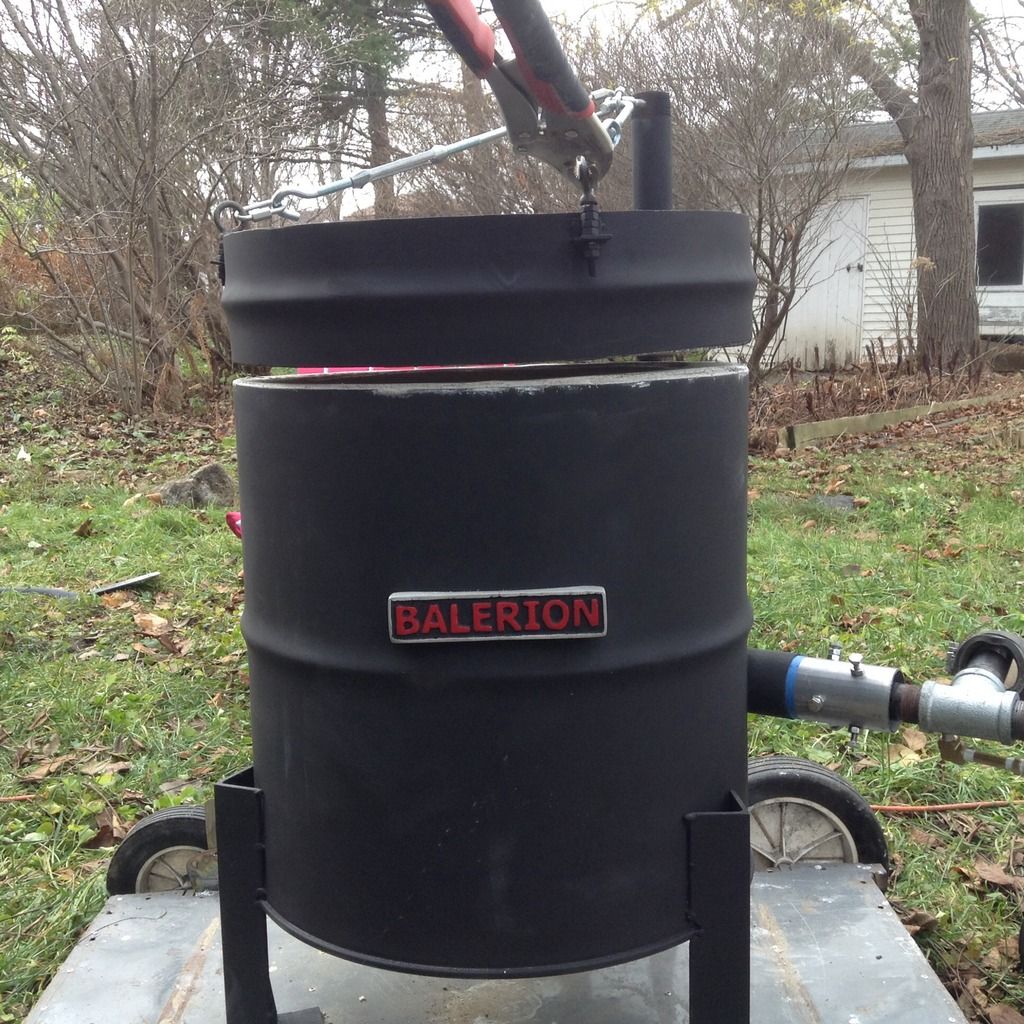 This furnace runs on waste oil - vegtable, motor, whatever. The burner I built for it has a propane line for preheating the furnace (necessary to ignite the oil spray) as well as the oil line.
Enter Lightbringer!
Here is Balerion again, all full of wildfire: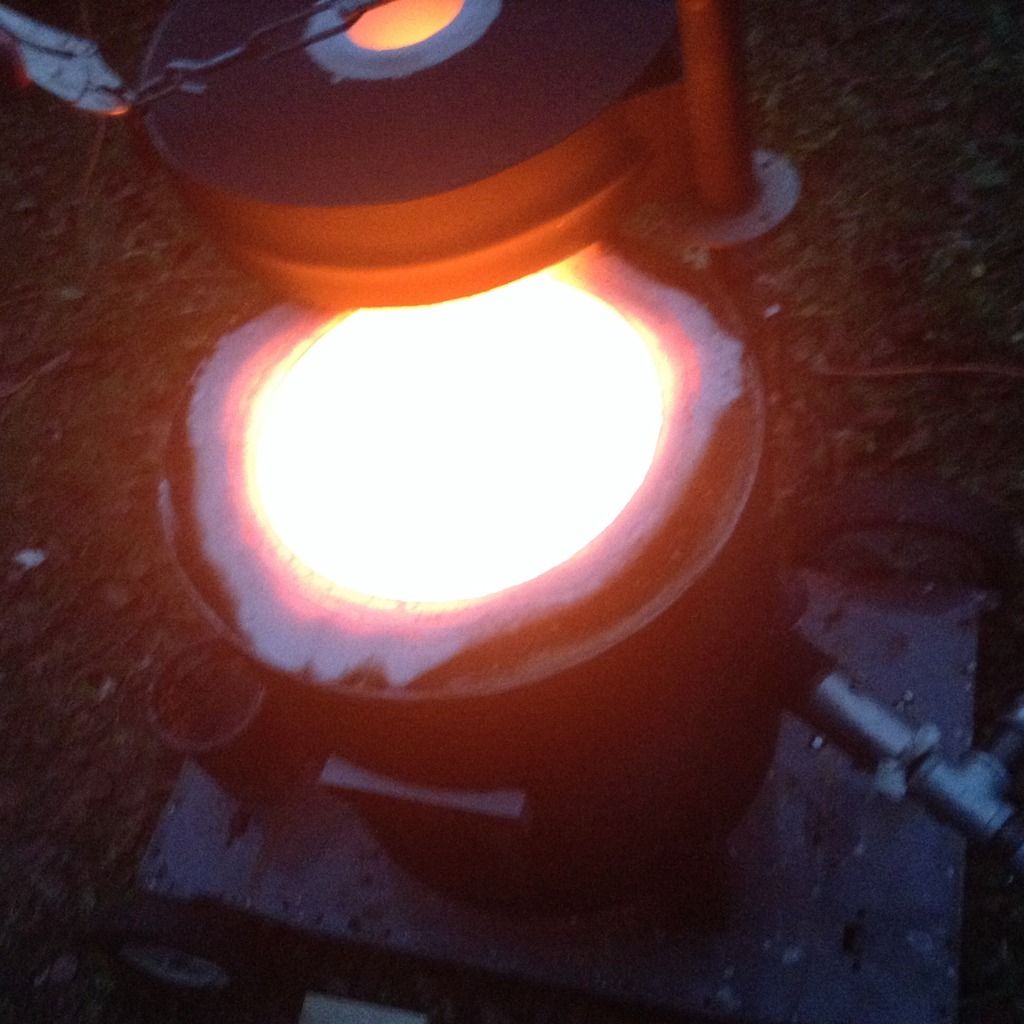 That is all the background stuff. On to this summer's big project!
So this year my goal was to upgrade the foundry for sand casting, and use it to mold and cast my own First Men style bronze axe. I had some greensand (water plus clay plus sand in certain proportions for making molds with for casting metal) that I got last year to help a friend cast some items for a club he belongs to, but it had dried out sitting in buckets all year. It still had enough moisture in it to make one more casting though... And I needed to make some sand molding tools. First and foremost, a sand rammer, for packing greensand in the molds
Enter King Robert's Rammer!
Cast in aluminum, shown next to the pattern I made for molding it.
The solution to dry greensand: Build a sand muller to help mix some moisture back into it and fluff it up real nice...
Enter Big Bucket Mull!
https://www.youtube.com/watch?v=1M1xOH1PF6g
(a work in progress that I'll tinker with some more when winter comes and I can;t spend m y time casting anyhow since my greensand will hjave turned into a block of ice)
Once I had reconditioned my sand, I bought the bronze for casting the axe. I actually went with a more modern alloy than traditional tin-bronze that the actual First Men would have used, aluminum bronze C954, because the aluminum bronzes are the toughest copper alloys, thus they should make the best blades. The First men didn't know they'd have to fight guys wielding ferrous based weapons when they chose
their
bronze alloy... Still no match for forged steel of course, but I am an amateur founder - not a blacksmith.
Here is the pattern for the axe blade next to the rammer pattern: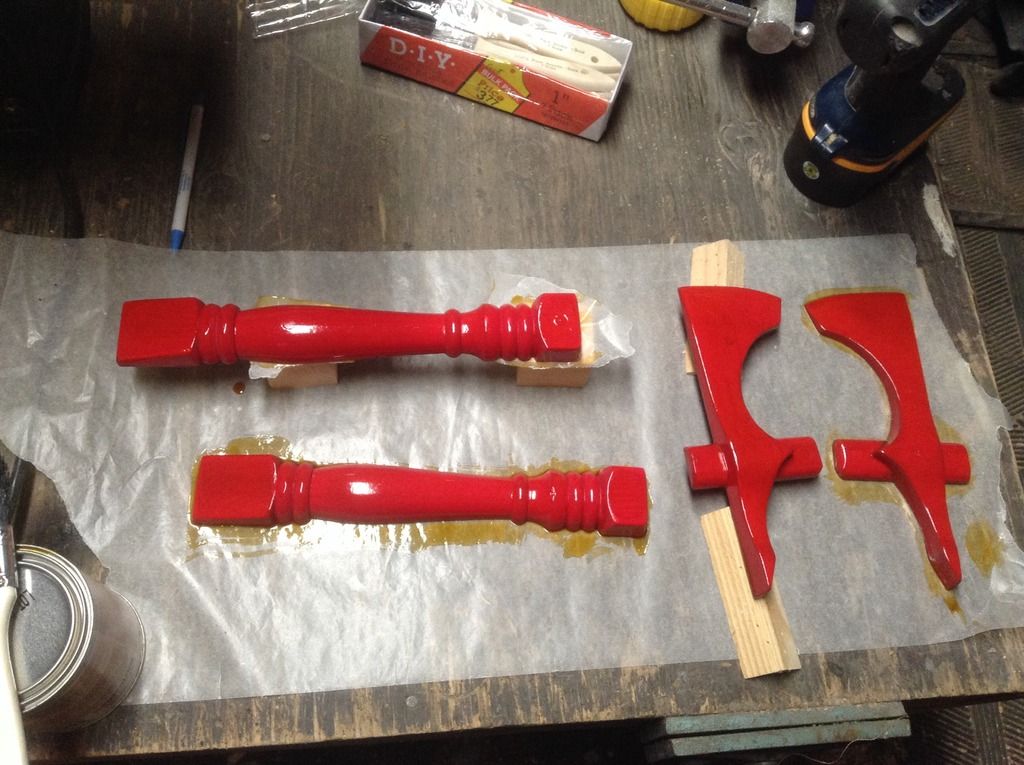 They are split patterns, one side gets molded in each half of the mold. the part that looks like a really small handle is called a core print. A hardened sand core sits in it inside the mold so molten metal can flow around it to form the hollow eye that the handle fits into.
So. The moment of truth!
Freshly poured sand mold: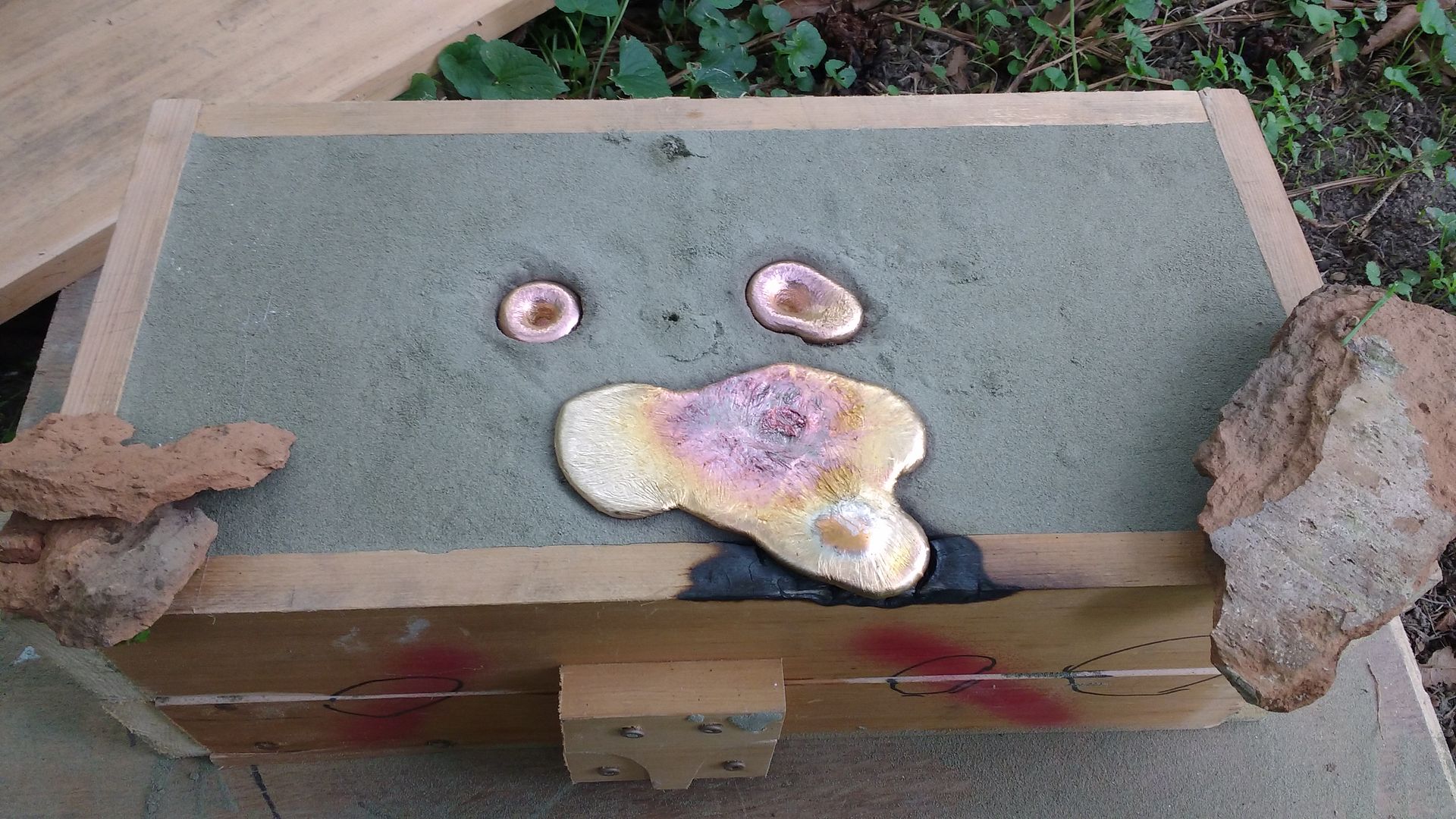 Left over bronze that I melted, poured into an ingot for a later melt:
Raw casting, cope side (cope means the top half of the mold, not sure why):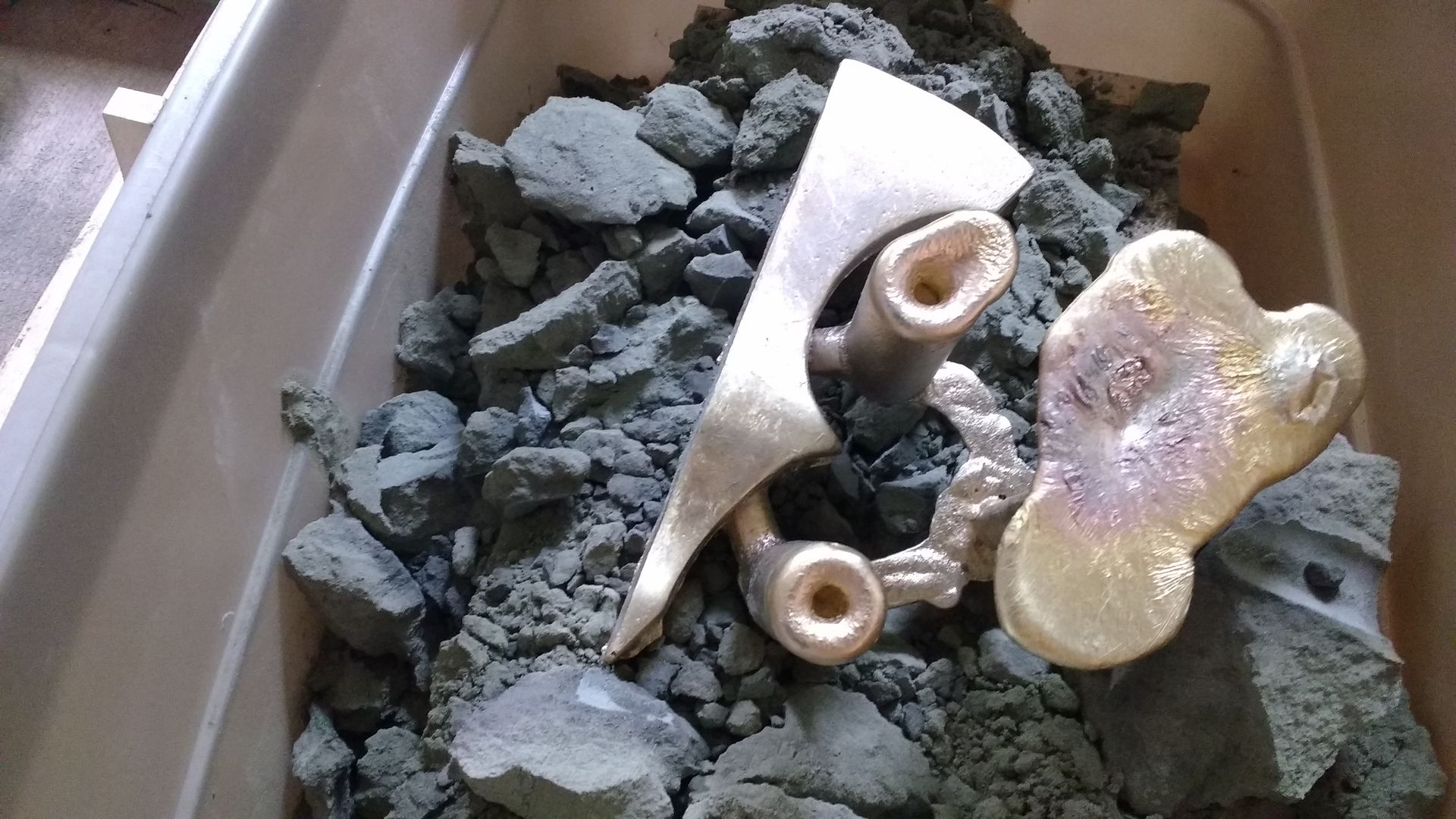 Drag (bottom) side:
(see the remains of the hardened sand core I mentioned above in there?)
And finally, the money shot, the completed axe:
First thing, I must admit I bought the handle. I was going to make one, but I only get so much hobby time every week, and I have a camping trip coming up this weekend to prepare for and relatives from out of town who are visiting... But I am glad I bought it; I was looking forward to making it but I'm sure it would not have looked this good. This sledge hammer handle was a near-perfect fit for the eye in the axe head, just had to sand it down a bit at the blade end and it went on without making me curse too much. I suppose I could always make a handle later and replace it, but I might not bother.
It could maybe use a bit more polishing, but it is ready to use, and this way people will believe me when I tell them I made it myself.
The marks where the gating was cut off are almost ground completely away. The edges have been ground sharp then hardened with a bit of hammering; I gave it a very brief test last night and it seemed to work well, the blades on either end were not damaged. A couple logs of well-seasoned hardwood (80 year old ash - waste cuts from a friend's beetle-killed lawn tree that he had milled) left over from the barrel-scrapper run in the youtube video linked above) can not say the same. Since they are now in pieces.
I call this a big success, and I can't wait to bring it camping with me this coming weekend to field test it chopping firewood. Same annual trip my I have been doing for 16 years now with the bannermen. I first caught the casting bug on one of these trips actually (see vimeo link above). My backyard foundry sure has come a long way since then! No idea where it will go from here.
I'd love to know what you all think of my First Men inspired bronze axe. Even if it's just funny/punny ASOIAF-based suggestions for naming it. I used House Cerwyn's words in the thread title because of their sigil, and also because we actually got a pet rabbit yesterday, same day I finished working on it... No, I won't be tying its skin to my axe and driving around waving it out the window at people like a yahoo.
Only thing left to do is sacrifice to the Old Gods for a sunny and fun weekend on the lake!
Hopefully this will inspire others to get out and make something cool to share with the fandom. This is all self-taught; I'm a nerdy computer programmer by day... So if I can do this, just magine what any of you can accomplish if you set your minds to it!
Stay safe and have fun!