Rammer pattern now split and dowelled, and draft angles (AKA tapered sides to enable removal from the mold) sanded on; also, flask alignment hardware has been added.
And I'm pretty sure I can use this same flask to mold the axe blade, so cancel what I said above about needing to build another set of frames. This flask does still need some ribs added to the inside walls to grip the molding sand. I don't want the packed sand to slip out and end up on the ground while I am trying to move it to my pouring area!
Rammer pattern needs paint, sanding, and shellack. Maybe some fillets (pronounced fill-it, not fill-eh like a piece of fish) where the beads meet with a sharp V between them (better view of this in the post above). Molten metal doesn't like freezing in the form of sharp corners; abrupt changes in thickness create weird shrinkage issues that can cause tearing while the casting is still only semi-solid, because thin sections freeze faster than thick ones, and sharp corners put those two things right beside each other. So adding the fillets to the pattern would involve ie. smearing some wood filler into those V's with the curved tip of a popsicle stick, or maybe using something a little narrower. Look carefully at any casting and you will notice fillets on the inside corners and radii (rounded edges) on the outside corners.
But even though I still have lots of work to do, I am getting closer to being ready to pour every day. Can't wait to get out in the back yard melting again!
rammer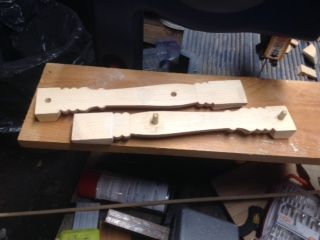 flask